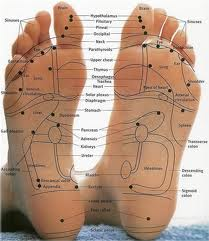 Reflexology is an ancient healing foot (and/or hand & face/ears) massage that can help release energetic blockages while stimulating the body to achieve its own natural state of wholeness and good health, often counteracting a lifetime of misuse.
It is an extremely relaxing therapy, and many clients drift into a very deep state of relaxation, or fall asleep during their treatment. This enables the body's own healing mechanisms to work and encourages the body's own energy flow, which enables the body and mind to rediscover their own state of balance.  Reflexology is very similar to receiving a massage but the only difference a system of pressure points are worked on so it's not just relaxing but therapeutic!
What happens during a session?
At the beginning of the initial session we talk about what brings you to reflexology and touch into your physical history. As we go along with sessions I monitor any changes and your progress. It is a fully clothed session minus the socks (unless you prefer to keep them on) and after the initial consultation we start the session.
The Reflexology Treatment 
$70 ~ The Basic Treatment ~ 1 Hour  (one set of feet, option of hands, face or ear)
$95 ~  The Full Treatment ~ 1.5 Hour  (one set of feet, hands, face and ear reflexology)