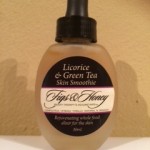 Exciting news this Fall is that we are absolutely thrilled to introduce our wonderful new product to the Figs & Honey collection of Wholefood Organic Skin Care. Our very own glorious Green Tea and Licorice Skin Smoothie, Elixir for beautiful skin. This hand crafted Smoothie is nourishing from the outside in, loaded with anti-oxidant and free radical busting ingredients. The smoothie encourages new healthy skin formation, evens out the complexion, minimizes the pores and gives a smooth and youthful complexion to all skin types, even sensitive skins. The ingredients are non greasy, and applied under your daily moisturizer and night oil.
The tinctured herbs provide a super rich anti-oxidant 'food for the skin' that stimulates collagen production for firm and toned skin. The superior nourishment reduces the wrinkles and dryness of aged skin perfectly. The results are healthy, glowing and smooth skin almost immediately. A true must have, in every woman's skin care regime.
Visit our eshop and order a bottle today! You are worth it. We are also thrilled to announce that our full line of products are available at Pure Integrative Pharmacy in West Vancouver! News spreads fast, and by popular demand our Wholefood, Organic Skin Care is being asked for all over the place! They have a popular customer appreciation day on the last Wednesday of every month. Lots of deals and chances to sample our products too! Have a wonderful Fall Season and remember to wrap up warm, enjoy the cozy evenings and remember that you are special and worth taking care of.